Should there be a connection between King's Cross Square and King's Cross Traffic Gyratory? There is one already, in that many users of the stations cross the roads in order to use the surrounding area; shopping, residing temporarily or permanently, working, going to entertainments and recreation, etc.
Motor vehicles on these busy roads, which are part of the "arterial" and "ring road" road transport systems "
A501
" and "
A5200
" have had a history to date of dangerous and violent physical contact between users of the road , and also produce noise, pollution and an arguably anti-social effects every day for the ambiance of these public spaces, and affecting the people who visit or live in the area, and those who work in or visit shops and businesses in the area.
The licensed operators of heavy vehicles are not personally responsible for the environmental impacts of these vehicles, and even in a conflict or deadly accident, may be exonerated as merely '
inadvertent
'. Does the responsibility for care of these public realms rest solely with the collective publics, then?
One part of King's Cross' the public realm here, the
square
, is managed by Camden/Network Rail/King's Cross Redevelopment, however another, the roads A501 and A5200, are managed exclusively by Transport for London.
King's Cross is currently the focus of local debate about
traffic danger
on junctions which could be potentially far safer and far more pleasant to walk through (and even to shop in). King's Cross Square is the subject of recent discussion about (privately funded)
public art
in this prominent London public space, where even the responsibility for maintaining dangerous icy pavements in front of bus stands is ambiguous.
Could these
public realms
be more harmoniously connected? Could there be a better balance between pedestrians and vehicles in these important spaces, despite the Mayor's preoccupation with (motorised) traffic, in line with Transport for London promoting
walking and cycling
?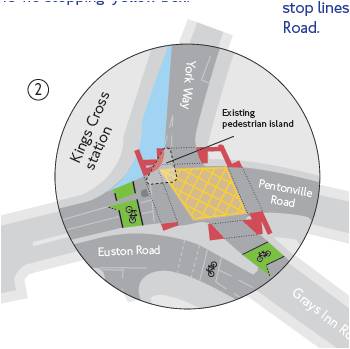 new from
King's Cross Environment
More on the call for a corporate manslaughter claim here in the
Guardian Bike Blog
.
Response in
Drawing Rings Around the World
blog with some useful data like this:
Imminent workshops on the
King's Cross Place Plan
- although unlikely to address the
Camden-Islington
separation, may be another opportunity to discuss some of these issues about managing the public realm in King's Cross. rsvp!