Hermann, Lisa, Tobias and I met with
Kevin Golding-Williams
,
Living Streets
' new public affairs manager, at St Pancras International for our latest walking meeting on Sunday 7 April.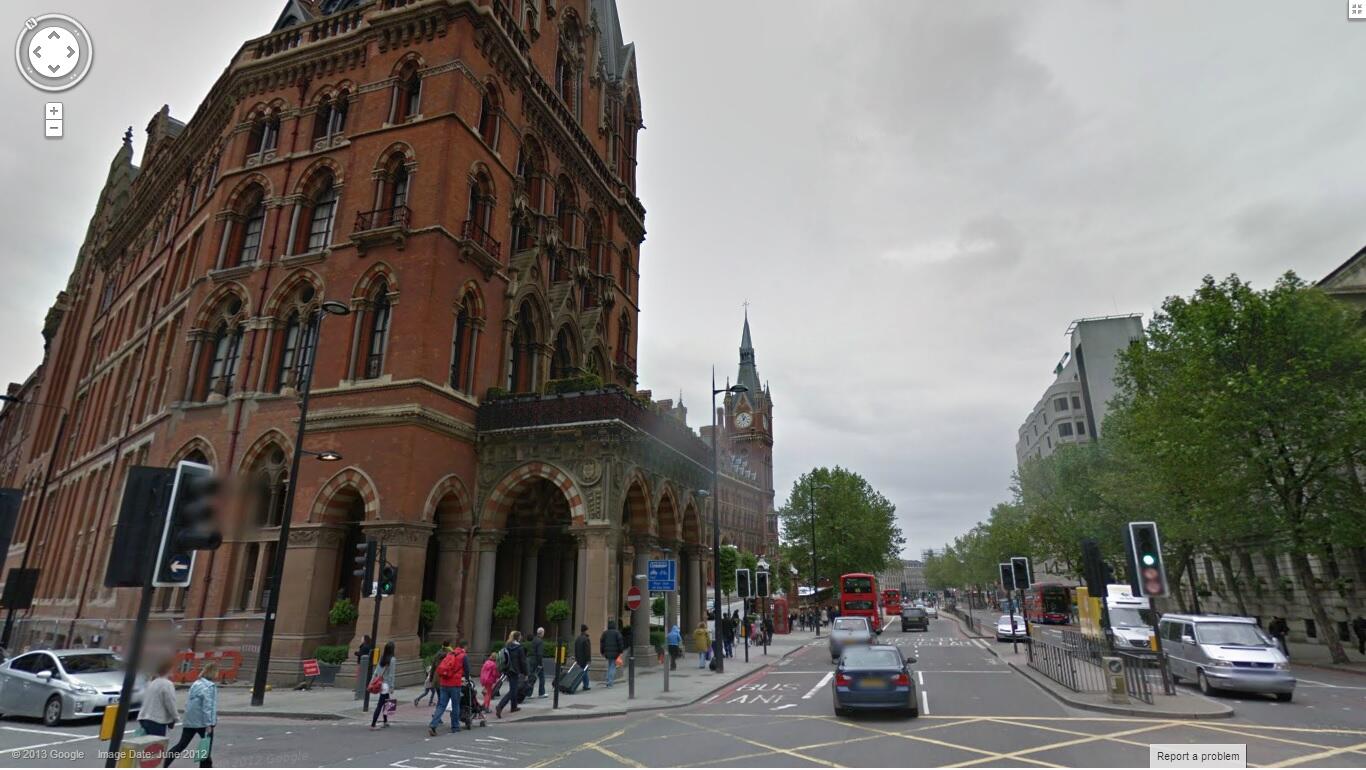 We met at Sourced Market. After a brief introduction to our activities and campaigns over the last few years, and a (mental) bird's eye view of the complex developments in King's Cross over recent years, at the Parcel Yard, we then toured the restored King's Cross Station and then walked around the area, from Granary Square, along the canal towpath to Thornhill Bridge, Caledonian Road and Northdown Streets, to St Chad's Place (passing St Chad's Well) and via our plantings at Euro Car Parks Brittania Street to Argyle Square and to the Crick Centre site.
The main findings were
1. The long awaited 20mph limits in
Camden
, already in place in Islington, east of York Way and Kings Cross Road, would be an
achievement
. Kings Cross Square would be a boon when complete. The highway environment for pedestrians on Euston Road and the public realm of the gyratory system remains a problem for liveability for local people (including residents, and people working, shopping or visiting).
2. Collaboration between Camden, Islington and TfL would be essential to work for liveable and viable streets where people want to walk. Travel plans and walking plans for publicly owned and publicly accessible places would need to be continually developed to enable and encourage walking.
3. Walking links north of Euston Road; Battle Bridge / Google Bridge (across King's Cross Station tracks) and the Crick Centre walkway (between St Pancras and Euston Stations) were two important public highways which are currently obstructed (Cllr Brayshaw's ward).
4. We analysed Caledonian Road at Vaultex Cash Handling and further south on the gyratory one-way system, and found the street diverse but cluttered for pedestrians, uncomfortable to cross, and with many vacant shops (Cllr Convery's ward).
5. We walked in Wicklow and Britannia Streets, the latter has major building work cluttering the street, and we saw our guerilla planted bulbs coming out there and in Argyle Street (Cllr Hayward's ward).
6. At the congested corner of Midland Road and Euston Road, we noticed the planters on the footway under the canopy of Gilbert Scott Restaurant, which constrict the public highway (Cllr Brayshaw's ward).
The weather was pleasant and we were pleased to have caught up with various news on Hackney and Harringay councils, on
Sustrans
and Living Streets, on
Somerstown Neighbourhood Forum
's Big Local grant and the
Neighbourhood Forum for King's Cross
meeting,
Friends of Argyle Square
's campaign for building height restriction at the Town Hall annexe,
Friends of Regents Canal
and
Thornhill Bridge Community Gardeners
, the
Canal Trust Cycling Plan
,
King's Cross Development Forum
and the
Kings Cross Gyratory Review
, each through various different members in the group.
It was agreed the
Deputy Mayor Transport Isabel Dedring
through Living Streets ought to be advised again about the local significance to King's Cross people of neglected public realm quality, neglected street (as opposed to 'road') environments, and local air quality in Kings Cross, in respect of the walking environment, especially that outside the Kings Cross Central Development area.
GC