Whether or not it should be in the form of a
Business Improvement District (BiD)
, a local-interest led, and joined-up approach to planning King's Cross is certainly necessary, and it is not happening at the moment. There are dozens of agencies, besides planners at Camden and Islington and the railways, none of which have yet made the station precinct workable for local people.
Improvement groups - like King's Cross Railway Lands Group (
http://www.kxrlg.org.uk/
) which has worked for years on this, and Create King's Cross (
http://www.createkx.org.uk/
) are intended to represent local people and business.
Would it be worth telephoning Transport for London's planning officers for our neighbourhood to talk about this state of affairs and to find some ways of moving forward?
TfL Planner for Camden (west of York Way and King's Cross Road)
Alex Andrews, Team Manager (West) Tel: 020 7126 4024
TfL Planner for Islington (east of York Way and King's Cross Road)
Patricia Charleton, Principal Planner Tel: 020 7126 4617
see
http://www.tfl.gov.uk/businessandpartners/15393.aspx
See also a new KXLE post on this by Sophie T
Here is a map of part of the problem identified in King's Cross
news
: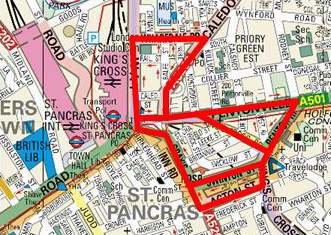 Do local Campaigners in King's Cross have
too much
power?